Optimizing & Photoshop Exercise
There is a slight a requirement to this exercise. I want you to create a graphical interface (button or image) that is 10k in size or smaller. It can be a jpg, png or a gif file, any is fine. However, it must be 10k or smaller.
Remember to insert the image on your home page (or on a separate page, if you wish) and publish both the home page and the image.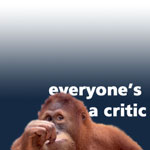 Here is a sample of the kind of thing I'd like you to do. (It is a 5k gif file.) Take a graphic and add a bit of text to it. You can add whatever effects you'd like, put it on a background, make it transparent, whatever you'd like to do.
Here are a collection of images (both jpg and transparent files) that you can start with; or, feel free to go out onto the web and "harvest" something more personal, just keep an eye out for those indexed gif files:
| | |
| --- | --- |
| | |
| | |
| | |
| | |
| | |