This may be so. But, at universities, curiosity is not only encouraged, it is cultivated. Curiosity is a necessary first step in any inquiry process. And who knows better than yourself what you want to find out about? You can start here and now.
'Wet ducks don't fly at night.'
???...Right! And this doesn't look like Kansas any more, does it, Toto? Well, whenever you're feeling lost or confused, just close your eyes, click your heels together three times and repeat, "There's no place like home." ...and then click on our logo.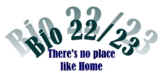 You will always end up back in a safe place.
Bio 1222/23
You're home.