---
Starting September 2011
---
Instructor: Dr. Robert Hudson Office: Chemistry 226
Full Professor
Textbook Package
A reduced price package has been assembled and is available in the campus bookstore:
i. Organic Chemistry, 7th Ed. by L.G. Wade Jr.
ii. Solutions Manual for Organic Chemistry, 7th ed. by Wade
The text will be used for 2283g.
A laboratory manual will be required for this course, details TBA
Molecular Models: Recommended. You are permitted to use the models during the midterm and final exam.
Lectures: Location TBA
Laboratory: Chemistry Building 074 (lower ground floor)
Laboratory Experiments begin the week of September 27, 2010.
Laboratory schedule -> TBA
Optional Tutorial: TBA
---
Course Evaluation: (details contained in the course outline, below)
Last year's evaluation scheme, as an example:
Midterm Exam*: 30% Friday October 22, 6:30-8:30 p.m., NCB 114
In-class Quizzes (5): 10% Approximately every second week until the of term
Laboratory*: 15% 3 laboratory sessions, as scheduled
Final Exam: 45% as scheduled by the Registrar
* there is no "make-up" exam, if you are unable to sit the exam for a reasons found acceptable by the Dean's Office, the weight of the midterm exam will be transferred to the final exam. Attendance in the laboratory is mandatory and all laboratory experiments must be completed unless a valid excuse has been filed with the Dean's Office and a copy has been sent to the instructor - then appropriate accommodations will be made when sought by the student.
Chemistry 2273a has a zero tolerance for plagiarism and cheating. All components of the course are to be completed individually. Any cases of cheating, collaboration or plagiarism will result in a zero grade for C2273a and the individual will be reported to the Chair and Dean who may impose further academic sanctions.
---
Course Information: Last Year's Course outline -> HERE
---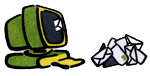 Chemistry2273

Email is preferred from @uwo accounts, include your student number and name in correspondence not from @uwo accounts.
06/13/11
Copyright © 2006 RHEH