<![if !vml]>

<![endif]>
<![if !vml]>

<![endif]>
<![if !vml]>

<![endif]>
<![if !vml]>

<![endif]>
(under construction)
Field Trip organiser: Professor Norman Duke
Web site Preparation: Professor W.R. Church (wrchurch@uwo.ca)
Airphotos and topo maps were prepared using "EXPERTGPS" . Waypoints shown on the airphotos and topo maps
were determined also using "EXPERTGPS" and are given in WGS 84 UTM coordinates.

Monticello, Virginia (Thomas Jefferson), and the eastern Catoctin of the Blue Ridge Anticlinorium
---
Itinerary:
Day 1 - London to Baltimore (Baltimore ophiolite and James Run arc volcanics)
Day 2 - Baltimore to Charlotteville (The Everona/Catoctin problem; the 'Melange' belt;
the Chopawamsic arc; the Mineral District ore deposits)
Day 3 - Charlotteville to Galax via the Arvonia Slates, Willis Mountain kyanite,
(Galax area - Gossen Lead, Ore Knob ore deposits)
Day 4 - Galax to Ridgeway via Grandfather Mountain - Late Proterozoic rifting
Day 5 - Ridgeway to Franklin (Haile, Brewer, Ridgeway ore deposits)
Day 6 - Franklin to Knoxville (Eastern and Western Blue Ridge; Ducktown ore deposit;
Day 7 - The Knoxville zinc deposits and the Thornhill Paleozoic section; return to London
(This itinerary is idealized and probably unattainable!! Taylor to match your time restraints.)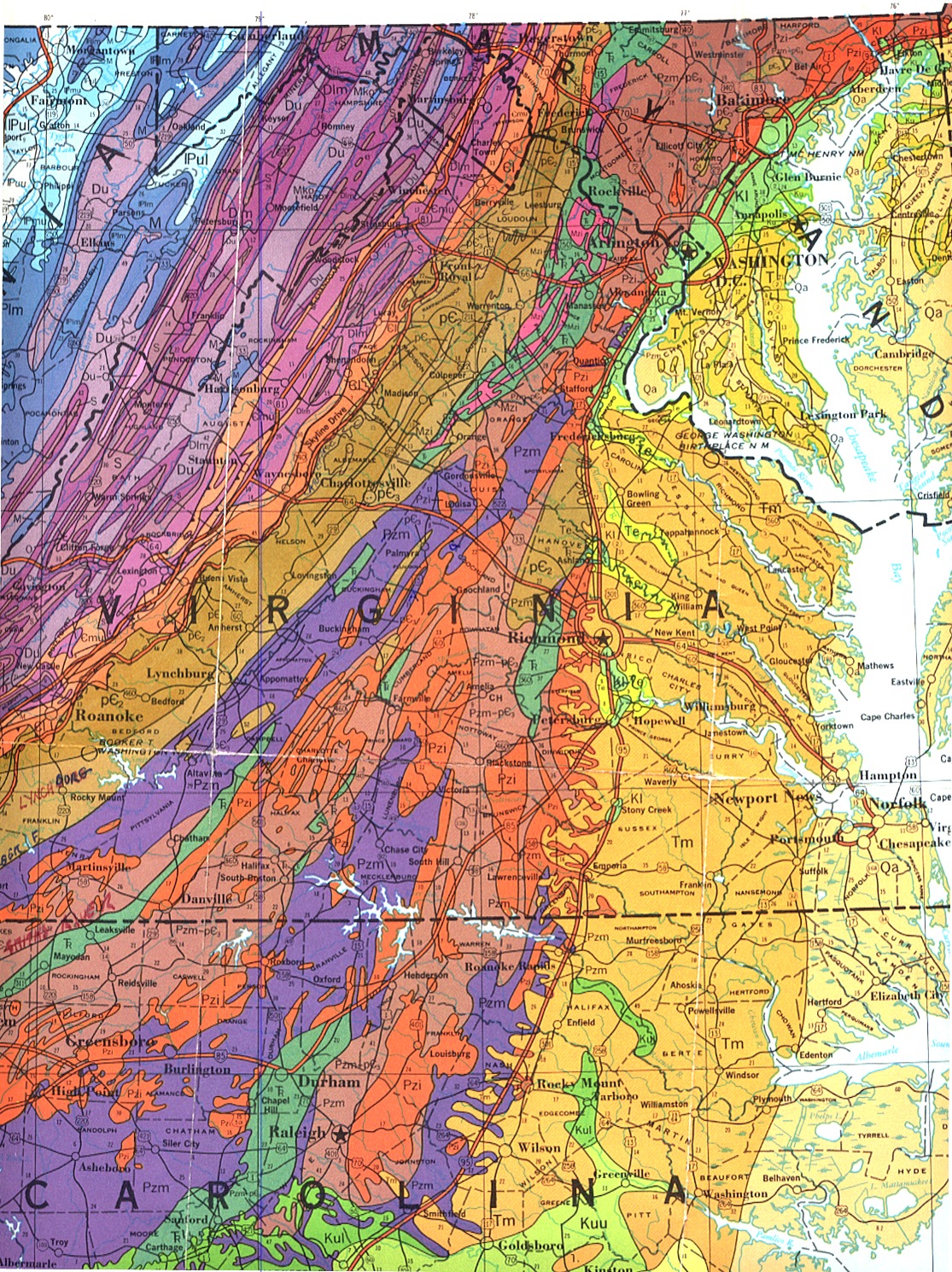 sapgen1.jpg - General map of tectonic zones of the Southern Appalachians
sapproad1.jpg - Geological road map of Maryland, Virginia, and North Carolina
sapphorton1.jpg - General map of the Appalachians, Horton et al., 1989
http://instruct.uwo.ca/earth-sci/300b-001/sapp.htm - notes on the geology of the Southern Appalachians
http://instruct.uwo.ca/earth-sci/300b-001/cordtimescale.jpg - Geological Timescale
---
Day 1 - drive from London to Baltimore (Road map of the Philadelphia - Baltimore - Washington region)
The Potomac terrane of the Baltimore region (Baltimore gabbro, James Run, )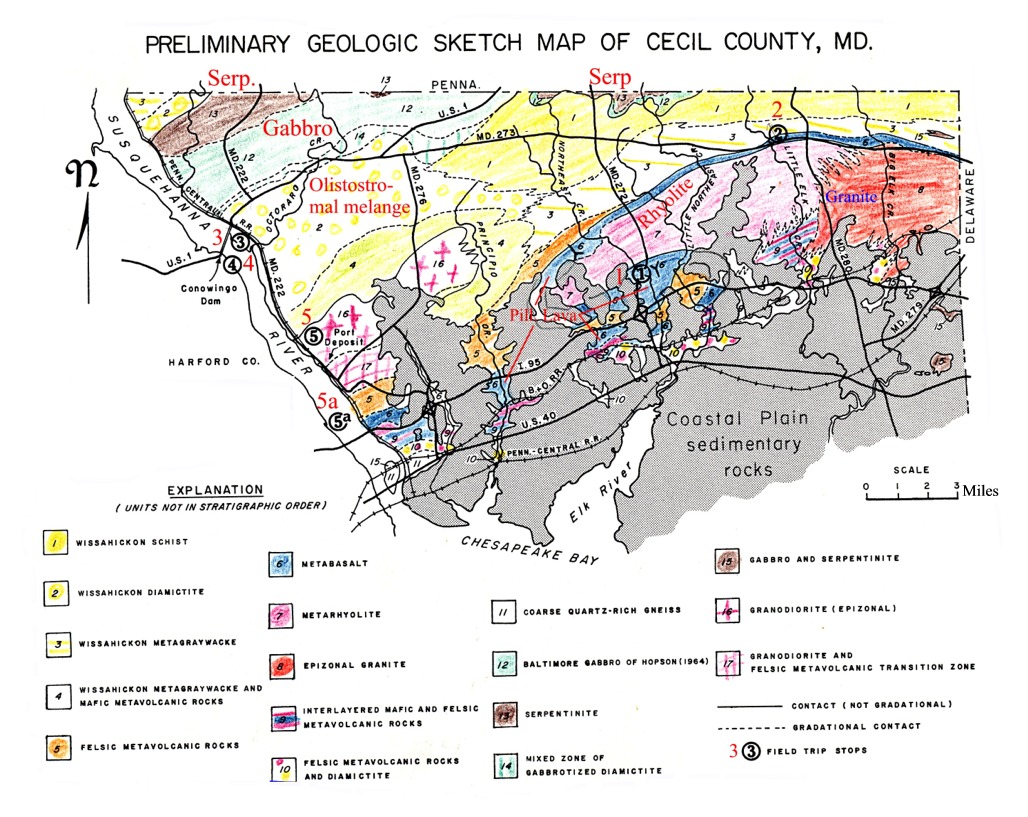 Crowley et al., 1971

The foreland basin/ocean obduction model

In Western Newfoundland (Burlington Peninsula - Bay of Islands/Long Range Peninsula) the conceptual model developed by Stephens (1970, see below) involves the formation of melange units as thust deformed olistostromal sediments deposited in a foreland basin formed as a result of an ophiolite obduction event. Oceanic (ophiolitic) material (e.g chromite) in the olistostromal melanges were derived from the weathing and surficial disintegration of the obducting oceanic crust whereas continental material (e.g. microcline, muscovite) were derived from the continental sourced Cambro/Ordovician sedimentary sequences being dragged along beneath the ophiolite during its emplacement.

East of the White Bay fault, the Baie Verte ophiolitic squence is overlain by olistostromal melange (characteristically with detrital chromite) and a sequence of island arc volcanics (Chopawamsic equivalent?, 471 Ma, Arenig), and underlain by a sequence of highly deformed psammitic rocks structurally intercalated with lenses of ultramafic/mafic material (metagabbro, metaclinopyroxenite, chrome actinolite schist). To the west the latter are structurally underlain by a unit of psammitic gneisses (including metaconglomerates) characterized by the abundant presence of garnet-amphibolites and eclogite. These gneisses are in turn in structural contact with a highly deformed and metamorphosed unit of marble and associated psammites and pelites. It is possible that all these units are allochthonous and that the Grenville basement extends beneath them as far to the east as the Iapetus suture represented by the Luke's Arm fault.

In the Maryland-Virginia-Carolinas section of the Southern Appalachians the question to be posed therefore is whether the melanges of the Potomac and Jefferson terranes are olistostromal or tectonic or both. And in terms of their tectonic location do they correspond to the external Bay of Islands sequence or to the internal Baie Verte - Betts Cove tectonic unit of the Burlington Peninsula of Newfoundland. Thirdly, could the c. 460 Ma granitoid intrusive units in the Potomac/Chopawamsic terrane (e.g. Prospect Granite) correspond to the post-ophiolite emplacement Burlington granodiorite of the Burlington Peninsula, and what is the age of the deformational phases affecting these intrusive rocks?

09ophiol.jpg - Reinhardt's 1969 ophiolite genesis and emplacement model for the ophiolites of the Oman, a seminal idea in the

development of plate tectonics. Reinhardt, B.M., 1969. On the genesis and emplacement of opiolites in the Oman

Mountains geosyncline. Schweitzer Mineralog. Petrog. Mitt.49, p. 1-30.

stevensfig5-6.jpg - Stevens, R.K., 1970 foreland-flysch obduction model for the Bay of Islands ophiolite, Newfoundland.

Stevens, R. K., 1970. Cambro-Ordovician flysch sedimentation and tectonics in west Newfoundland and their bearing on a

Proto-Atlantic Ocean. Geol. Assoc. Can. Special Paper v. 7 p. 165-177.

Abst: "A succession of Ordovician flysch derived from the east overlies Cambro-Ordovician carbonate rocks in west Newfoundland. The flysch is overridden by two allochthons mainly made up of flysch sequences also of Cambro-Ordovician age. The transported flysch consists of an older assemblage resembling sediments of a continental rise of the Atlantic type and a younger assemblage derived from tectonic lands possibly bordering a former closing ocean. Parts of the old ocean crust might be preserved as ophiolites in the upper slices of the allochthons. The tectonic activity associated with the emplacement of the allochthons also led to the deposition of the allochthonous flysch which transgressed westwards onto the craton."

sappophiolites.jpg - Map showing the distribution of three supposed occurrences of ophiolitic rocks in the Southern Appalachians (Hatcher et al. 1984)

The ophiolitic and 'melange' units of the Maryland Piedmont

sappliberty.jpg - Tectonostratigraphic map of the Maryland Piedmont and adjacent areas ( Muller et al. 1989)

sappbalt2.jpg - Geological sketch map of Cecil County, Maryland (Crowley et al., 1971).

sappbalt3.jpg - Geological map of the Baltimore area (Crowley et al., 1971).

sappbalt4col.jpg - Columnar section showing stratigraphic units exposed on the northwest flank of the Towson dome (Crowley et al., 1971).

Field Trip Stops

(Crowley et al., 1971)

sappbaltrdmp.jpg - road map showing field trip route and stops 1 to 12

sappbaltstop1.jpg - stop 1, pillow lavas at Gilpin Creek, MacGregor Conference Center Boys Scouts of America (UTM: 418003, 4389233);

amygdaloidal tholeiitic basalt; leave highway 89 onto 272 at UTM: 417430, 4387019, 18S

.

sappbaltstop2.jpg - stop 2, sheared pillow lava at Rock Church (434054, 4394943, 18S)

sappbaltstop3.jpg - stop 3, Conowingo breccia, foreland basin olistostromal turbidite (mass flow) deposits of the Wissahickon

(UTM: 400184, 4390696, 18S)

sappbaltwiss71a.jpg, sappbaltwiss71b.jpg - soft-sediment deformed 'blocks' in the Conowinga breccia.

sappbaltstop5.jpg - stop 5, Port Deposit gneiss, shallow pluton associated with the Jame Run felsic volcanic sequence overlying the

pillow lava unit of stops 1 and 2 (UTM: 403064, 4385912, 18S).

sappbaltstop6.jpg - stop 6, James Run Gneiss, mafic/felsic volcanogenic meta-sedimentary rocks??. Gatch quarry entrance off highway 136

at UTM: 391495, 4376422, 18S. sappbaltgatch71.jpg - James Run 'straight' gneisses in the Gatch Quarry.

sappbaltstop7.jpg - stop 7, Little Gunpowder Quarry; metagabbro (amphibolite/hornblende gneiss) foreland basin melange. (UTM: 378264,

4370704, 18S). Quarry entrance off highway 147 at UTM: 377791, 4370837, 18S.

Reference and internet links:

Crowley et al., 1971. New interpretations of the Eastern Piedmont geology of Maryland. Maryland Geol. Surv. Guidebook no. 2 (1971 GSA

Field Trip no. 4), 43p. (All information reported above was taken from this publication.)

Gates, A.E., Muller, P.D., and Valentino, D.W., 1991, Terranes and tectonics of the Maryland and southeast Pennsylvania Piedmont, in

Schultz, A., and Compton-Gooding, E., eds., Geologic evolution of the Eastern United States: Field Trip Guidebook for the Northeast-

Southeast Sectional Meeting of the Geological Society of America, Virginia Museum of Natural History, v. 2, p. 1-28.


http://pubs.usgs.gov/circ/2004/1264/pdf/trip5.pdf - Multiple Paleozoic Metamorphic Histories, Fabrics, and Faulting in the Westminster

and Potomac Terranes, Central Appalachian Piedmont, Northern Virginia and Southern Maryland By Michael Kunk, Robert Wintsch,

Scott Southworth, Bridget Mulvey,Charles Naeser, and Nancy Naeser, 2004 NE-SE GSA field guide.

http://geology.er.usgs.gov/eespteam/Greatfalls/web_site/pdf_files/gf_layout.pdf - 2000, geologic map of the Potomac River gorge,

Great Falls Park, Virginia

Day 2 - the Potomac and Chopawamsic terranes, and the Mineral Mining District of Virginia ( Liberty complex: Sykesville, Morgan Run/Peters Creek; Mine Run Complex; Palmyra; Everona)

Road map of the region between Washington and Charlotteville

Topographic map of the Southern Appalachians south of Charlotteville, Virginia, north of

Columbia, South Carolina, and east of Knoxville, Tennessee.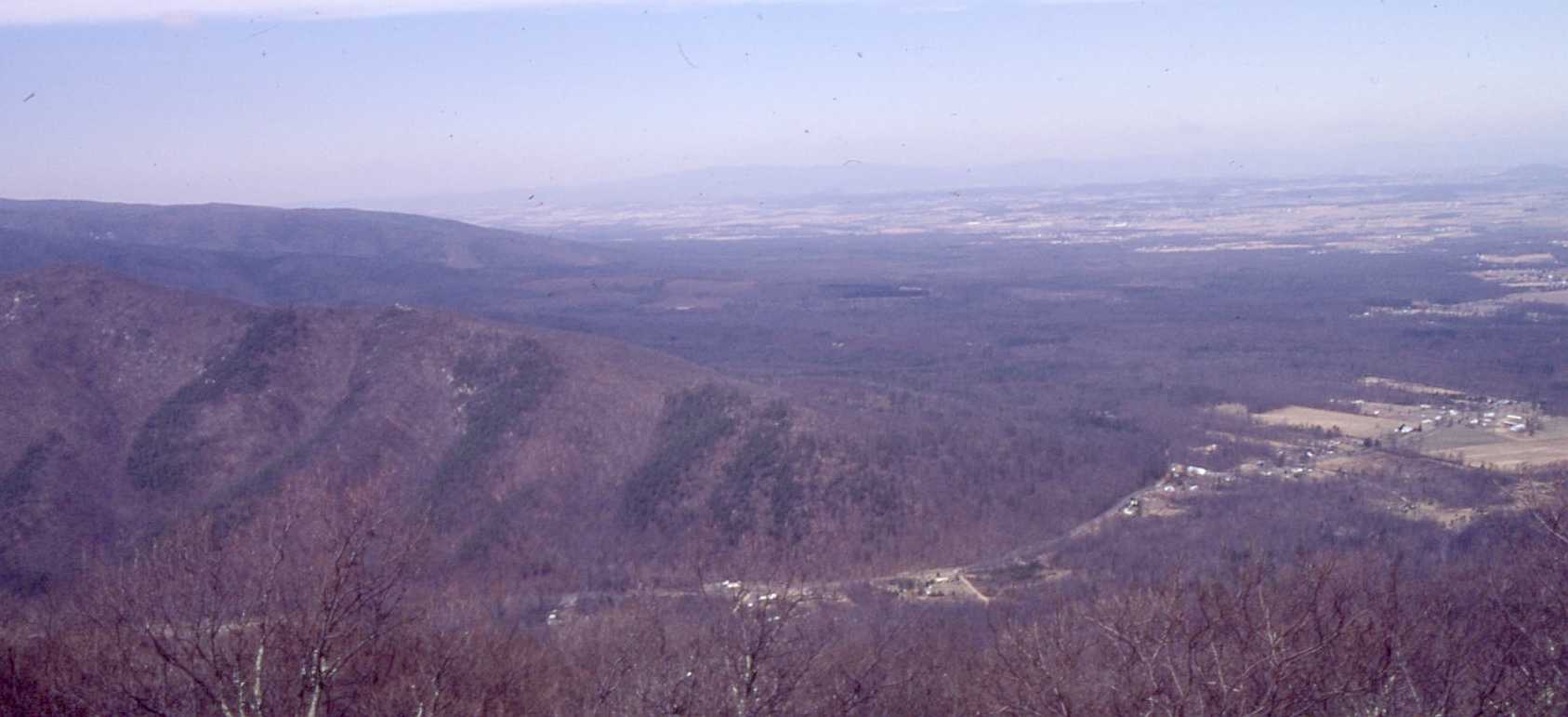 View to the NE of the Virginia countryside as seen from the Blue Ridge Parkway
(Catoctin greenstones in the foreground)
normcentvirginia.rtf - A metallogenic study of the Central Virginian Gold-Pyrite belt by N.A. Duke
normmineralfig6.jpg - A three-stage tectonic evolutionary model for the Chopawamsic metavolcanic belt by N.A. Duke
sappconley.jpg - James Conley's geological map from his 'Geology of the Piedmont of Virginia - interpretations and problems', 1978.
The following maps and charts are from: Pavlides, Louis. 1989. Early Paleozoic composite melange terrane, central
Appalachian Piedmont,Virginia and Maryland; its origin and tectonic history. Geol. Soc. America Special Paper 228, p. 135-192.
sapppavtable6.jpg - Correlation chart of selected plutonic and stratigraphic units, Piedmont of Maryland and Virginia, p. 176, Table 6.
sapppav138.jpg - Generalized lithotectonic map of the Piedmont of Virginia and Maryland, Pavlides, 1989, p. 138, Fig. 1A (North)
sapppav139a.jpg - Generalized lithotectonic map of the Piedmont of Virginia and Maryland, Pavlides, 1989, p. 139, Fig. 1A (South)
sapppav139b.jpg - Generalized terrane map of the Piedmont of Virginia and Maryland, Pavlides, 1989, p. 139, Fig. 1B
sapppav140.jpg - Map of the Rappahannock River - Mineral area, Virginia, Pavlides 1989, p. 140, Fig 2
OCte = Everona Limesone; Cq = Cambrian quartzite; Oe = Ellisville pluton;
Oq = Quantico Fm; Cc = Chopawamsic Fm; Ct = Ta River Metamorphic suite;
Zc = Catoctin? Fm;
sapppav164ab.jpg - Generalized geologic map of the Somerville-Occoquan River area, northern Virginia Piedmont, p. 164, Fig. 10
sapppav164a.jpg - Generalized geologic map of the Somerville-Occoquan River area, map only, p. 164, Fig. 10
sapppav164b.jpg - Generalized geologic map of the Somerville-Occoquan River area, legend only, p. 164, Fig. 10
sapprankin69.jpg - Geological map of the Blue Ridge belt - location of dated samples from Mount Rogers, Grandfather Mountain and
the Catoctin near Gettysburg (Rankin et al, 1969).
sapprankin75.jpg - Geologic map of the crystalline Appalachians south of lat. 40N, showing distribution of rocks older than mid-Ordovician
on either side of the supposed location of the Iapetus suture (Rankin, D.W. 1975).
sapparvonia.jpg - Map of the Chopawamsic belt compiled by Dr. Norman Duke
sapparvoniaN.jpg - Map of the northern part of the Chopawamsic belt compiled by Dr. Norman Duke
Guide Books:
Pavlides, L. 1976. Piedmont geology of the Fredericksburg, Virginia, area and vicinity, Arlington, Virginia. GSA NE - SE sections
Guidebook for Field Trips 1 and 4, 44 p.
Metamorphic Rocks of the Potomac Terrane in the Potomac Valley of Virginia and Maryland
P. M. Hanshaw Field Trip Guide Book, Volume T202, 1989; ISBN 0-87590-587-0, AGU CODE IG2025870.
http://pubs.usgs.gov/of/2002/of02-437/of02437.pdf - Digital Geologic Map and Database of the Frederick 30' x 60'Quadrangle,
Maryland, Virginia, and West Virginia Version 1.0 Compiled by Scott Southworth. 2002. Open FIle Report 02-437. Geology by
Scott Southworth, David K. Brezinski1, Avery Ala Drake, Jr, William C. Burton1, Randall C. Orndorff, and Albert J. Froelich
Aeromagnetic map and digital topographic map by David L. Daniels.
http://pubs.usgs.gov/of/2002/of02-437/image_files/pdf_pamphlet/fig5.html - colour shaded DEM
Evans, N.H., and Milici, R.C. 1994. Stratigraphic relations and structural chaos on the southeastern limb of the Blue Ridge anticlinorium
and points east, Central Virgina Piedmont, in Schultz, A., and Henika, B., 1994. Field guides to Southern Appalachian structure,
stratigraphy and engineering geology, Virginia Tech Dept. of Geological Sciences Guidebook no. 10, 64 p.
Coler, D.G., Wortman, G.L., Samson, S.D., Hibbard, J., Stern, R., 2000. U-Pb geochronologic, Nd isotopic and geochemical evidence for the correlation of the Chopawamsic and Milton terranes, Piedmont Zone, Southern Appalachian Orogen, Journal of Geology, 108, 363-380.
Abst: We report U-Pb crystallization ages from four metavolcanic rocks and two granitic gneiss samples as well as whole-rock chemical analyses and Sm-Nd isotopic ratios from 25 metaigneous and metasedimentary rocks from the Chopawamsic and Milton terranes, southern Appalachian Orogen. A metarhyolite sample from the Chopawamsic Formation and a metabasalt sample from the Ta River Formation in the Chopawamsic terrane have indistinguishable U-Pb crystallization ages of 471.4+/-1.3 Ma and 470.0+1.3/-1.5 Ma, respectively. A sample from the Prospect granite that intruded metavolcanic rocks of the Ta River Formation yields a younger U-Pb date of 458.0+/-1 Ma. Metarhyolite and granitic gneiss samples from the northern part of the Milton terrane yield U-Pb dates of 458.5+3.8/-1.0 Ma and 450+/-1.8 Ma, respectively. Metavolcanic and metaplutonic rocks from both terranes span a range in major element composition from basalt to rhyolite. Trace element concentrations in these samples show enrichment in large-ion lithophile elements K, Ba, and Rb and depletion in high field strength elements Ti and Nb, similar to those from island arc volcanic rocks. Initial epsilon(Nd) values and T(DM) ages of the metaigneous and metasedimentary samples range from 0.2 to -7.2 and from 1200 to 1700 Ma for the Chopawamsic terrane and from 3.7 to -7.2 and from 850 to 1650 Ma for the Milton terrane. The crystallization ages for the metavolcanic and metaplutonic samples from both terranes indicate that Ordovician magmatism occurred in both. Similar epsilon(Nd) values from representative samples from both terranes suggest that both were generated from an isotopically similar source. Xenocrystic zircons from metavolcanic rocks in the Chopawamsic terrane have predominately Mesoproterozoic (207)Pb/(206)Pb ages (600-1300 Ma), but a single Archean (2.56 Ga) core was also present. The xenocrystic zircons and the generally negative epsilon(Nd) values indicate that both terranes are composed of isotopically evolved continental crust.
Day 3 - Arvonia Slates; Kyanite deposits of Willis Mountain; Willis River 'ophiolite'
sapp_Mineral_mines.jpg - Map showing the distribution of mineral occurrences in the Mineral region of Virginia (Craig, 1978).
sapparvoniaS.jpg - Map of the southern part of the Chopawamsic belt compiled by Dr. Norman Duke
sapparvoniaap.jpg - Airphoto of the Arvonia slate mine, Arvonia
The Arvonia Slate occupies the core of a narrow syncline within the Arvonia synclinorium. The protolithic shales
stratigraphically overlie the arc rocks of the Chopawamsic terrane, and were likely deposited in mid-late Ordovician
post-arc basins.
sappwillistopo.jpg - Topographic map of the Willis Mountain area
sappwillismntap.jpg - Airphoto of Willis Mountain kyanite deposit
The Willis Mountain kyanite deposit is likely the metamorphosed remains of a hydrothermally altered felsic volcanics
complex belonging to the Chopawamsic arc.
sappwillisrivap.jpg - Airphoto of the Willis River ophiolite (gabbro/sheeted diabase) locality
sapwillisriv2ap.jpg - Enlarged segment of the Willis River ophiolite airphoto
The Willis River exposure is composed of meta-gabbro transected by mafic dikes, in places garnetiferous, that may
represent a metamorphosed ophiolitic gabbro-sheeted diabase unit at the base? of the Chopawamsic.
Day 4 - mineral deposits of the Gossen Lead, Galax, North Carolina (Iron Ridge, Betty Baker, and Toncrea mines); Late Proterozoic of Grandfather Mountain ( Blowing Rock, Linville, Burnsville eclogite)
Map showing reference locations pertinent to the excursion on days 4 to 7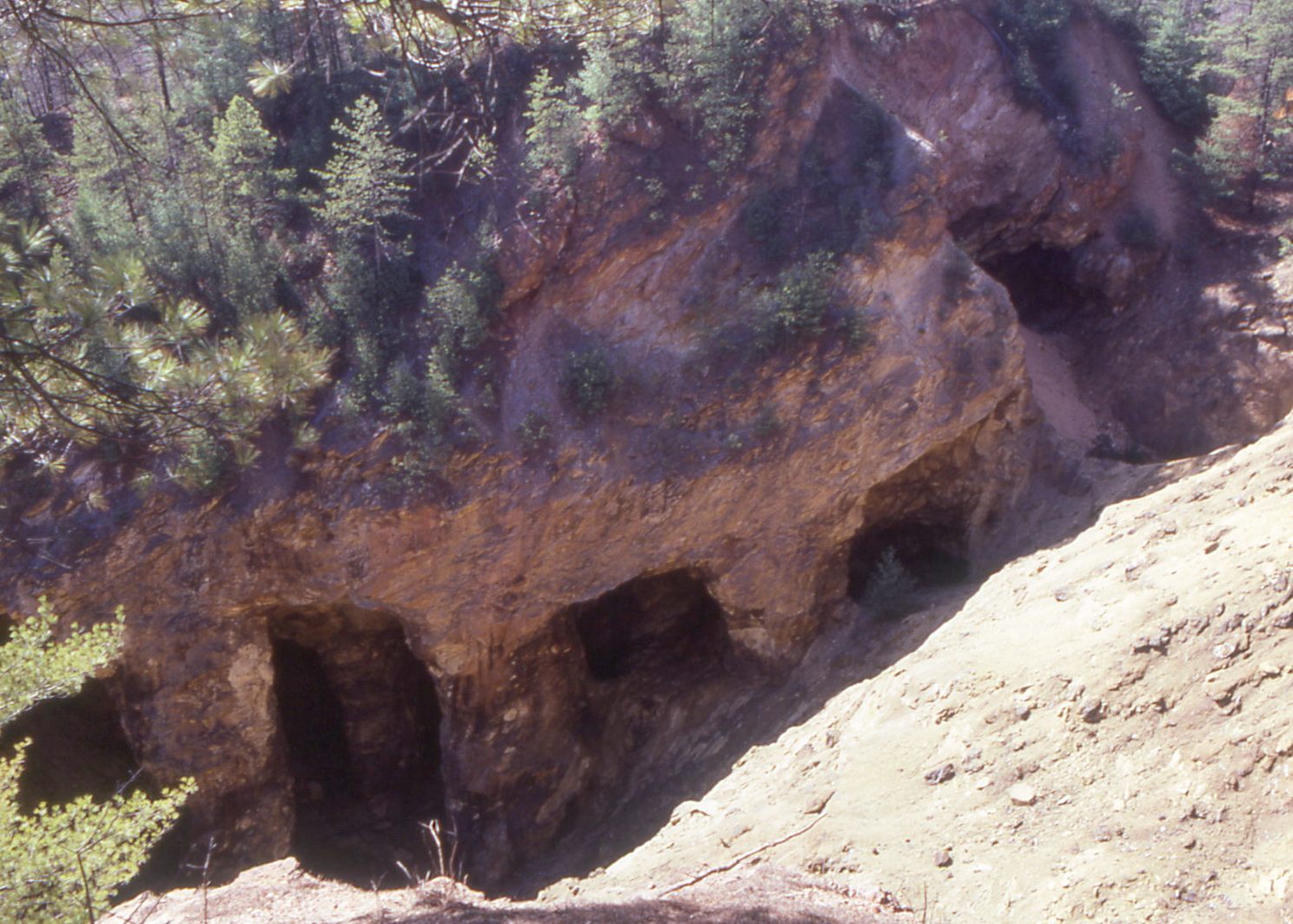 Bumbarger (Iron Ridge, Gossen Lead) Mine, near Galax

Gossen Lead District

norm58748.rtf - The metallogeny of base and precious metals in evolving plate margin rift settings, Southern Appalachia, by N.A. Duke.

normashefig1.jpg - Schematic cross-section demonstrating regional lithofacies relationships in the Late Precambrian "Ashe" rift, by N.A. Duke.

sappgalax.jpg - map of the Jefferson belt from Endicott, Virginia, to Zionville, North Carolina (Toncrea; Galax, Great Gossan Lead;

Ore Knob); compiled by Dr. N. Duke.

sappgalaxN.jpg - northern portion of the above map.

sappgalaxS.jpg - southern portion of the above map.

sappbumbarger.jpg - geological map of the Bumbarger deposit (Gair and Slack, 1984)

sappapbum.jpg - airphoto of the area in the vicinity of the Bumbarger UTM: 506788, 4063438, 17S, and Gossen Howard mines,

UTM: 506446, 4062779.

saptopbum.jpg - topo map showing road to the Bumbarger mine.

saptop2bum.jpg - topo map of the Galax area; UTM Galax: 506544, 4057824, 17S

sapbettybakerap.jpg - airphoto of the Betty Bake mine location, north of Hillsville

Reference:

Gair, J. and Slack, J.F. 1984. Deformation, geochemistry, and origin of massive sulphide deposits, Gossen Lead District, Virginia. Economic Geology, 79, 7, p. 1483-1526.

Abst: "the deposits occur at one horizon and have been variously folded and brecciated after sulfide deposition."; the Bumbarger "deposit contains abundant coarse breccia fragments of wall rock around which the massive deposit has flowed (during deformation and metamorphism), probably thickening the deposit significantly."; "sedimentation and initial sulfide deposition took place in a deep, elongate marine basin or graben overlying a crustal rift zone."; "a line of hydrothermal vents on the sea floor that generated the sulfide deposits."

Grandfather Mountain

sapgrand1.jpg - Maps of the geology of the Grandfather Mountain area showing the location of the Tweetsie and Payne Branch Road stops.

sappboonetweetsieap.jpg - airphoto of the Tweetsie (Stop 1) and Payne Branch Road (Stop 2) outcrops of Grenville basement gneiss and the

unconformably overlying Late Proterozoic Grandfather Mountain sandstones, respectfully.

sappblowrockap.jpg - airphoto mosaic of the Blowing Rock - Boone area.

sappblowrockash.jpg - airphoto of the approximate location of Stop 3 on highway 221 to Linville, Grandfather Mountain ash flow tuff.

sapplinvilleap.jpg - airphoto of the Linville area (intersection of highways 221 and 105).

Mount Rogers

A well designed guide to the geology of the Mount Rogers area is available at:

http://www.radford.edu/~fldsch/RUFieldschool/fieldtrips/MountRogers/MtRogersIndex.html

Carolina Geological Society, 1997 field trip to the Blue Ridge, by Stewart, K.G., Adams, M.G., and Trupe, C.H.

http://carolinageologicalsociety.org/gb%201997.pdf see p. 10 for description of the Bakersville eclogite location.

Location: NCSR 1217 ~ 3000 feet NE of intersection with NCSR 1211, northeast of Bakersville, NC, Bakersville, NC-TN quadrangle.

UTM coordinates: 396550mE, 3986740mN NAD27

Hibbard, J., Stewart, K.G., and Henika, W.S. 2001. Framing the Piedmont zone in North Carolina and southern Virginia.

Field Trip Guide 50th Ann. Meet. SE Sect., GSA, Raleigh, N.C., 26 p.

Airphotos: sappbakersvilleap.jpg and sappbakeclogiteap.jpg (UTM's as WGS84 )

Airphoto mosaic of the area between Bakerville and the Township of French Broad; the Township of French Broad and Sylva;

and Sylva and Hayesville.

B.V. Miller, K.G. Stewart, C.F. Miller, C.W. Thomas, 2000. U-Pb ages from the Bakersville, North Carolina, eclogite: Taconian eclogite

metamorphism. Geological Society of America Abstracts with Programs, 2000 , p. A-62. Taconian eclogite metamorphism followed

by Acadian and Alleghanian cooling; the Burnsville fault is the surface expression of the Taconian suture zone in the western

North Carolina Blue Ridge Province southwest of the Grandfather Mountain window. Zircon from the eclogite is 461+/-4 (Llandeilo?) has

cores and 430 +/-15 (Llandovery-Wenlock?) rims. Titanite is 333.7+/-.4 (Visean). Titanite from a partly amphibolitized eclogite has an age of

393.5+/-1.3 (Lower Middle Devonian).

F. Z. Page, E. J. Essene and S. B. Mukasa, 2003. Prograde and retrograde history of eclogites from the Eastern Blue Ridge, North

Carolina, Journal of Metamorphic Geology, 21, 7, p. 685 http://www.blackwell-synergy.com/links/doi/10.1046/j.1525-1314.2003.00479.x/abs/

Trupe et al. 2003. The Burnsville fault: Evidence for the timing and kinematics of southern Appalachian Acadian dextral transform tectonics.

BGSA, 115, p. 1365-1376 http://www.unc.edu/~kgstewar/downloads/Burnsville.pdf

"the contact between the metasedimentary and metavolcanic rocks of the Ashe Metamorphic Suite and the Grenville basement rocks of the western Blue Ridge corresponds to a Devonian high-grade, dextral strike-slip fault zone, the Burnsville fault. Timing of motion on the Burnsville fault is constrained by field relationships, metamorphic fabrics and assemblages, and radiometric ages. A U-Pb zircon crystallization age for a pegmatite sheared by the Burnsville fault shows that the last movement on the fault must be younger than 377 Ma." (Frasnian - Late Devonian) ... "and older than than ca. 360 Ma." (Fammenian - Late Devonian) .... "The Gossan Lead fault of northwesternmost North Carolina and southwestern Virginia is the likely continuation of the Burnsville fault to the northeast. Southwest of Asheville, North Carolina, the Burnsville fault may connect to the Devonian Dahlonega shear zone, or may be cut by post-Devonian thrust faults associated with the Alleghanian orogeny. Diachroneity of Acadian clastic wedges, the presence of Silurian-Devonian pull-apart basins, the presence of Devonian highgrade, dextral shearing in the Inner Piedmont, and recent plate reconstructions for the middle Paleozoic, support the interpretation that the late phase of the Acadian orogeny in the southern Appalachians was primarily a dextral transpressional event. "

Miller, C.F. et al., 2000.

Age and zircon inheritance of eastern Blue Ridge plutons, southwestern North Carolina and northeastern Georgia

with implications for magma history and evolution of the Southern Appalachian orogen. Am. Jour. Sci., 300, p. 142-172.

http://www.geology.yale.edu/~ajs/2000/02.2000.02Miller.pdf

Day 5 - mineral deposits of northern South Carolina (Brewer, Haile, and Ridgeway mines) (to do)

sappRidgeway-Mines.jpg - map with the location and geological context of the Brewer, Haile and Ridgeway gold mines (Lapointe, D., 1997).

Airphoto of the Haile mine (Kershaw at bottom left; mine at centre)

Airphoto of the Brewer mine (Jefferson at right of airphoto)

Airphoto of the Ridgeway mine, c. 30 km ENE of Atlanta (road running WNW from the mine leads to the town of Ridgway)

sappraleigh.jpg - geological map of the Raleigh belt east of the Carolina Slate belt (Farrar, S.S., 1984).

http://instruct.uwo.ca/earth-sci/fieldlog/Sapp/sappmodoc_kiokee.jpg - map showing the relationship of the Kiokee belt to the Cambrian rocks

of the Carolina Slate belt (Sacks, P.E. et al., 1989).

Reference:

Gillon et al., 1998, The Ridgeway Gold Deposits: A Window to the Evolution of a Neoproterozoic Intra-Arc Basin in the Carolina

terrane, South Carolina.http://carolinageologicalsociety.org/GB%201998/Output/Gillon.html -

Day 6 - mineral deposits of Franklin, Ducktown, and Knoxville (Taconic granulites of Winding Stair Gap and the Chunky Gal ophiolite/melange)

sapphatch2.jpg - map of tectonic units of the Eastern Blue ridge ( Hopson et al., 1989)

sapphatch5.jpg - map showing metamorphic zonation of the Eastern Blue Ridge (Hopson et al., 1989)

sapphatch4.jpg - stratigraphic correlation of units in the Eastern Blue Ridge (Hopson and Hatcher, 1988)

sapphatch3.jpg - cross section through the Eastern Blue Ridge and Inner Piedmont (Hopson et al., 1989)

sappchunky.jpg - map of the Chunky Gal 'ophiolite' (Lacazette, A.J. and Rast, N., 1989.)

sapgrtsmokmet.jpg - map of the metamorphic zonation in the northern Western Blue Ridge of the Great Smoky Mountains

(Kohn and Malloy, 2003)

References:

Hopson, J.L. et al. 1989. Geology of the Eastern Blue Ridge, Northeastern Georgia and the adjacent Carolinas. Georgia

Geological Society Guidebooks, v. 9., 3, p. 1-40.

Lacazette, A.J. and Rast, N. 1989. Tectonic melange at Chunky Gal Mountain, North Carolina Geol. Soc. Am. Spec. Paper 228. p. 217

The Winding Stair Gap

controversy
Winding Stair Gap Field Trip guide: http://donahoe.geo.ua.edu/fieldtrips/windingst.html

References:
Absher-B-Steven; McSween-Harry-Y Jr. 1985. Granulites at Winding Stair Gap, North Carolina; the thermal axis of Paleozoic

metamorphism in the Southern Appalachians. Geological Society of America Bulletin. v. 96, 5, p. 588-599.
Absher-B-Steven; McSween-Harry-Y Jr. 1986. Winding Stair Gap granulites; the thermal peak of Paleozoic metamorphism.

Southeastern section of the Geological Society of America. Neathery-Thornton-L (editor), Centennial field guide. v. 6, p. 257-260.
McLellan, E., Linder, D., & Thomas, J., 1989. Multiple granulite-facies events in the southern Appalachians, USA. in Evolution of

Metamorphic Belts, eds. Daly, J.S., Cliff, R.A., and Yardley, B.W., Geological Society Special Publication No. 43, pp. 309-314.
Moecher, D.P., 2000. P-T conditions and timing of peak Taconian granulite facies metamorphism in the southern Blue Ridge,

GSA Abst w. Prog., Reno, p. A-113 : - post-kinematic kyanite bearing leucosomes in granulites at Winding Stair Gap (southern limit

of the eastern Blue Ridge) have zircons with ages of 472.7 (cores) to 469.8 (rims), that is, Taconic. Pre-leucosome silimanite

is oriented WNW, and cross-cut by kyanite.

Kohn, M.J. and Malloy, M.A. 2003. Formation of monazite via prograde metamorphic reactions among common silicates: implications for age

determinations. Geochem. Cosmochem. Acta, 2003 , 68, 1, 101-113. On the basis of monazite ages, Kohn and Malloy claim that

metamorphism in the Great Smoky Montains is Acadian in age.

La Tour, T.E. and Edwards, T., 2000. Detailed metamorphic history of aluminous schist of the Marble Hill area. In: Higgins, M.W., et al.,

The Tate‑Marble Hill Window in the marble belt of north Georgia. Geological Society of America Field Trip Guidebook ‑ 50th Annual

Meeting Southeastern Section, Raleigh, NC (C.W. Hoffman, ed.), pp. 192‑197.

sappwestblueridge.jpg - geological map of the western Blue Ridge between the Great Smoky and Haysville faults in southeastern Tennessee

and western North Carolina (Murphy belt; Ducktown copper).

Tim Latour has suggested that within the Western Blue Ridge of Georgia the southern Murphy Marble Belt was probably involved in a major

thrusting episode, the evidence for which has been recorded in the rocks in the form of a separate and distinct metamorphic deformational

mineral assemblage. This contrasts markedly with the relatively simple metamorphic-deformational history recorded in the northern part

of the belt.

Day 7 - Knoxville zinc deposits and the Paleozoic succession at Thornhill; return to London

sappthornhill.jpg - Thornhill east-facing Cambrian to Mississippian section beween the Copper Ridge and Saltlake faults,

highway US 25E. (from Byerly, D.W. et al., 1986.)

Airphoto: sappthornhillap.jpg

knoxmissvalores.jpg - map showing major carbonate-hosted Mississippi Valley-typ districts of the Southern Appalachians (after Misra, K.

and Fulweiler, R.E., 1992; after Hoagland, 1976)

knoxore.jpg - generalized stratigraphic column , Mascot-Jefferson City zinc district ( after Misra, K.and Fulweiler, R.E., 1992; after

Crawford et al, 1969).

References:

Byerly, D.W. et al. (10 other authors), 1986. Thorn Hill: a classic Paleozoic stratigraphic section in Tennessee Geo. Soc. America

Centennial Field Guide - southeastern Section, p. 131-136.

Misra, K.C., and Fulweiler, R.E., 1992. Zinc deposits of the Mascot-Jefferson City District, East Tennessee, p. 9-37, in Misra, K.C.,

Fulweiler, R.E., and Walker, K.R. 1992. Zinc Deposits in East Tennessee. Guidebook , Society of Economic Geologists

Field Conference, Guidebook Series, v. 14.

McCormick, J.E et al. 1985. Field Trip #1: Zinc deposits of the Mascot-Jefferson City and Copper Ridge districts, East Tennessee

Field Trips in the Appalachians; SE-GSA 1985. Field Trips 1- 5, 7, Univ. Tennessee Dept. of Geological Sciences Studies in Geology 9.
---
References (not complete; arranged according to year of publication):

Rankin, D.W., et al. 1969. Zircon ages of felis volcanic rocks in the Uppr Precambrian of the Blue Ridge, Appalachian Mountains, Science, 166, p. 741-744.

Crowley, W.P. et al. 1971. New interpretations of the Eastern Piedmont geology of Maryland. Maryland Geol. Surv. Guidebook no. 2 (1971 GSA field trip no. 4), 43p.

Rankin, D.W. 1975. The continental margin of eastern North America in the Southern Appalachians: the opening and closing of the Proto-Atlantic ocean. Am. Jour. Sci., 275-A, 298-336.

Conley, J.F. 1978. Geology of the Piedmont of Virginia - interpretation and problems, in Contributions to Virginia Geology - III. Virginia Div. Min. Res. Pub. 7, p. 115-149.

Pavlides, L. 1981. The central Virginian volcanic-plutonic belt: an island arc of Cambrian (?) age. U.S. Geol. Survey Prof. Paper 1231-A, 34p.

Nesbitt, B.E. 1982. Metamorphic Sulfide-Silicate Equilibria in the Massive Sulfide Deposits at Ducktown, Tennessee. Economic Geology, v.77, p. 364-378

Williams, H. and Hatcher, R.D. 1982. Suspect terranes and accretionary history of the Appalachian orogen. Geology, v. 10, p. 530-536.

Farrar, S.S. 1984. The Goochland granulite terrane: remobilized Grenville basement in the eastern Virginia Piedmont. GSA special Paper 194, p. 215-227.

Gair, J. and Slack, J.F. 1984. Deformation, geochemistry, and origin of massive sulphide deposits, Gossen Lead District, Virginia. Economic Geology, 79, 7, p. 1483-1526.

Hatcher et al. 1984. Structure and chemical petrology of three southern Applachian mafic-ultrmafic complexes and their emplacement and origin of Appalachian ultramafic bodies. Am. Jour. Sci., v. 284, p. 484-506.

Muller, P.D. and Edwards, J. 1985. Tectonostratigraphic relationships in the Central Maryland Piedmont. GSA NE Sect., Abst., v. 17, p. 55.

McCormick, J.E et al. 1985. Field Trip #1: Zinc deposits of the Mascot-Jefferson City and Copper Ridge districts, East Tennessee Field Trips in the Appalachians; SE-GSA 1985. Field Trips 1- 5, 7, Univ. Tennessee Dpt. of Geological Sciences Studies in Geology 9.

McSween, H. Y and Hatcher, R.D. 1985. Field Trip #4: ophiolites (?) of the Southern Appalachians Blue Ridge Field Trips in the Appalachians; SE-GSA 1985 Field Trips 1- 5, 7, Unin. Tennessee Dpt of Geological Sciences Studies in Geology 9 144-170.

Slater, W.R et al. 1985. Field Trips in the Appalachians; SE-GSA 1985 Field Trips 1- 5, 7, Univ. Tennessee Dpt. of Geological Sciences Studies in Geology 9.

Byerly, D.W. et al. (10 other authors) 1986. Thorn Hill: a classic Paleozoic stratigraphic section in Tennessee Geo. Soc. America Centennial Field Guide - southeastern Section, p. 131-136.

Horton, J.W. Drake, A.A., Jr., Rankin, D.W., and Dallmeyer, R.D. 1988. Preliminary tectonostratigraphic terrane map of the Central and Southern Appalachian orogen Abst. w. pgms, Denver 20 7 A123. Comment- Penobscottian orogeny is between the L. Cambrian ? Chopawamsic and the 495 Occoquan granite which cuts the Chopawamsic-Potomac terrane boundary; Devonian orogeny in south at 380-340 is younger than in New England at 400-380; Suwanee terrane = Gondwanaland fragment accreted at 330-270.

Higgins, M.W. Crawford, R.F., Atkins, R.L., and Crawford, T.J. 1989. The Macon Complex; an ancient accretionary complex in the southern Appalachians Geol. Soc. Am. Spec. Paper 228 229-246.

Horton, J.W. et al. 1989. Tectonostratigraphic terranes and Paleozoic boundaries in the central and southern Appalachians, p. 213-246 in Dallmeyer, R.D., ed., Terranes in the Circum-Atlantic Paleozoic Orogens, Geol. Soc. Am. Special Paper 230.

Hopson, J.L. et al. 1989. Geology of the Eastern Blue Ridge, Northeastern Georgia and the adjacent Carolinas. Georgia Geological Society Guidebooks, v. 9., 3, p. 1-40.

Lacazette, A.J. and Rast, N. 1989. Tectonic melange at Chunky Gal Mountain, North Carolina Geol. Soc. Am. Spec. Paper 228. p. 217-

Pavlides, Louis. 1989. Early Paleozoic composite melange terrane, central Appalachian Piedmont,Virginia and Maryland; its origin and tectonic history Geol. Soc. America Special Paper 228 135-192.

Sacks, P.E. et al. 1989. The Burks Mountain complex, Kiokee belt, southern Appalachian Piedmont of south Carolina and Georgia. GSA Special Paper 231, p. 75.

Raymond, L.A. and Yurkovich, S.P. 1989. Block-in-matrix structures in the North Carolina Blue Ridge belt and their significance for the tectonic history of the Southern Appalachian orogen Geol. Soc. Am. Spec. Paper 228, p. 195.

Gates, A.E., Muller, P.D., and Valentino, D.W., 1991, Terranes and tectonics of the Maryland and southeast Pennsylvania Piedmont, in Schultz, A., and Compton-Gooding, E., eds., Geologic evolution of the Eastern United States: Field Trip Guidebook for the Northeast-Southeast Sectional Meeting of the Geological Society of America, Virginia Museum of Natural History, v. 2, p. 1-28.

Misra, K.C., Fulweiler, R.E., and Walker, K.R. 1992. Zinc Deposits in East Tennessee. Guidebook , Society of Economic Geologists Field Conference, Guidebook Series, v. 14.

Carter, M.W. et al. 1995. Field Trip Guide to the Startigraphic and Structural Relationships in the Western Blue Ridge Foothills of Southeastern Tennessee. GSA Southeastern Section Meeting, Knoxville, Tennessee, p. 23-45.

Adams, M.G. and Raymond, L.A. 1996. Eclogite and melange within the Ashe metamorphic suite, Blue Ridge Belt, western North Carolina, U.S.A. GSA Ann. Meet. Abst. and Programs, Denver, 28, 7, 507-508. Comment - Pelite and mafite dominated Ashe contains blocks of metamorphosed felspathic arenite and wackes, metaconglomerates, dolomitic marble, phacoidal ultramafic and eclogite bodies (20 cm - 1 km); eclogites formed at 725 degrees C, 15 kb are retrograded to hornblende+plag (700 degrees C, 10 kb); melange at the base of the Ashe has pelitic matrix of kyanite-garnet mica schist (aluminous); early eclogite formation, mixed with pelite to form a melange; occurred in a west- verging subduction zone at the Laurentian margin before and during the Taconic; later events are Acadian and Pennsylvanian retrograde metamorphism.

Crowe, D.E. 1997. An introduction to the Gold Deposits of the Carolina slate Belt. (manuscript).

Gillon, K.A. et al. 1997. Geology of the Ridgeway gold deposits, Ridgeway, South Carolina. (Kennecott Mineral company, manuscript).

Lapoint, D.J. 1997. Successful exploration techniques for Haile-Ridgeway type gold deposits in South Carolina ( Appalachian Resources, manuscript).

Charles H. Trupe Kevin G. Stewart, Mark G. Adams, Cheryl L. Waters, Brent V. Miller and Lauren K. Hewitt 2003. The Burnsville fault: Evidence for the timing and kinematics of southern Appalachian Acadian dextral transform tectonics Geological Society of America Bulletin 115 11 1365–1376. Comment - ...the contact between the metasedimentary and metavolcanic rocks of the Ashe Metamorphic Suite and the Grenville basement rocks of the western Blue Ridge corresponds to a Devonian high-grade, dextral strike-slip fault zone, the Burnsville fault. A U-Pb zircon crystallization age for a pegmatite sheared by the Burnsville fault shows that the last movement on the fault must be younger than 377 Ma. Previously published 40Ar/39Ar cooling ages show that the Burnsville fault must be older than ca. 360 Ma. The Gossan Lead fault of northwesternmost North Carolina and southwestern Virginia is the likely continuation of the Burnsville fault to the northeast. Southwest of Asheville, North Carolina, the Burnsville fault may connect to the Devonian Dahlonega shear zone, or may be cut by post- Devonian thrust faults associated with the Alleghanian orogeny. Diachroneity of Acadian clastic wedges, the presence of Silurian-Devonian pull-apart basins, the presence of Devonian high-grade, dextral shearing in the Inner Piedmont, and recent plate reconstructions for the middle Paleozoic, support the interpretation that the late phase of the Acadian orogeny in the southern Appalachians was primarily a dextral transpressional event. The Burnsville fault and the Inner Piedmont formed the boundaries of a dextral transform margin that may have extended the length of the Appalachian orogen.

Guidebooks:

Carolina Geological Society, 1997 field trip to the Blue Ridge - http://carolinageologicalsociety.org/gb%201997.pdf

https://www.agu.org/cgi-bin/agubookstore?topic=FT - AGU On Line Book Catalog

Geological Cross-Section Through Part of the Southern Appalachian Orogen

P. M. Hanshaw Field Trip Guide Book, Volume T365, 1989; , softbound, ISBN 0-87590-602-8, AGU CODE IG3656028. AGU Member Price - $ 14.70 | Nonmember Price - $ 21.00 | AGU Student Member Price - $ 14.70

Valley and Ridge and Blue Ridge Traverse, Central Virginia

P. M. Hanshaw Field Trip Guide Book, Volume T157, 1989; , softbound, ISBN 0-87590-591-9, AGU CODE IG1575919. AGU Member Price - $ 14.70 | Nonmember Price - $ 21.00 | AGU Student Member Price - $ 14.70 AGU Member Price - $ 14.70 | Nonmember Price - $ 21.00 | AGU Student Member Price - $ 14.70

Southern Appalachian Windows

P. M. Hanshaw Field Trip Guide Book, Volume T167, 1989; , softbound, ISBN 0-87590-616-8, AGU CODE IG1676168. AGU Member Price - $ 14.70 | Nonmember Price - $ 21.00 | AGU Student Member Price - $ 14.70

Tectonics of the Virginia Blue Ridge and Piedmont

P. M. Hanshaw Field Trip Guide Book, Volume T363, 1989; , softbound, ISBN 0-87590-655-9, AGU CODE IG3636559. AGU Member Price - $ 9.10 | Nonmember Price - $ 13.00 | AGU Student Member Price - $ 9.10

Stratigraphy and Structure Across the Blue Ridge and Inner Piedmont in Central Virginia

P. M. Hanshaw Field Trip Guide Book, Volume T207, 1989; , softbound, ISBN 0-87590-579-X, AGU CODE IG207579X. AGU Member Price - $ 9.10 | Nonmember Price - $ 13.00 | AGU Student Member Price - $ 9.10 Metamorphic Rocks of the Potomac Terrane in the Potomac Valley of Virginia and Maryland P. M. Hanshaw Field Trip Guide Book, Volume T202, 1989; , softbound, ISBN 0-87590-587-0, AGU CODE IG2025870. AGU Member Price - $ 9.10 | Nonmember Price - $ 13.00 | AGU Student Member Price - $ 9.10

Petrology and Structure of Gneiss Anticlines Near Baltimore, Maryland

P. M. Hanshaw Field Trip Guide Book, Volume T204, 1989; , softbound, ISBN 0-87590-585-4, AGU CODE IG2045854. AGU Member Price - $ 9.10 | Nonmember Price - $ 13.00 | AGU Student Member Price - $ 9.10

Ultramafite-Associated Cu-Fe-Co-Ni-Zn Deposits of the Sykesville District, Maryland Piedmont P. M. Hanshaw Field Trip Guide Book, Volume T241, 1989; , softbound, ISBN 0-87590-595-1, AGU CODE IG2415951. AGU Member Price - $ 4.20 | Nonmember Price - $ 6.00 | AGU Student Member Price - $ 4.20

Titanium-Mineral Deposits of the Roseland Anorthosite-Ferrodiorite Terrane, Blue Ridge Province of Central Virginia Field Trip Guide Book, Volume T244, 1989; , softbound, ISBN 0-87590-626-5, AGU CODE IG2446265. AGU Member Price - $ 4.20 | Nonmember Price - $ 6.00 |

AGU Student Member Price - $ 4.2
---
Other geology excursions:
Geology of the Adirondacks, New York State, Oct. 2004
The Meso-Protoerozoic Grenvillian geologic history of the Adirondacks region of New York State
Geology/Geography Field Trip to SE California, Feb. 2004
Complete guide to Extensional Tectonics and Gold Mineralization in the SW USA